With two exciting anniversaries coming up next year, the CITY OF WORCESTER is expecting a busy time.
First of all, it's the 350th. anniversary of the Battle of Worcester, the final battle of the English Civil War.
Re-enactment enthusiasts are already rehearsing for a week-long festival which begins on August 22nd. and culminates on September 3, the date of the 1651 Battle.
On a quieter note, the world-famous Royal Worcester factory will celebrate 250 years of manufacturing its beautiful porcelain and china - look out for special events to mark this milestone.
Again, an influx of visitors is expected, all of whom will be eager for information about the 11th. century Cathedral, 15th. century Greyfriars, Georgian Guildhall - and all the other beauties of this lovely Midland city.
So it's no wonder that the City Centre TIC laid its plans early with a new Destination Management System from CTV!
Andrea Watkins, Tourism Manager, said: "At Worcester, we want to provide the most efficient service we can to our customers."
"We had heard good reports about CTV from other users, so we went on some fact finding visits to other CTV clients to take a look at their set-ups."
"We were so impressed that we contacted Chris for a presentation, and now we are the proud and very satisfied owners of a TIM Destination Management suite (DMS).
"We have found that the brochure fulfilment package in the TIM4 suite makes responding to letters, e-mails and telephone calls for information about the region so quick and easy.
"Just asking for the name and postcode is such a slick and simple way of taking the enquiries, and as the address label is then generated automatically we can save time and guarantee accuracy at the same time.
"In addition, as every enquiry is entered directly as it comes in, we can measure the effectiveness of our advertising in the various regions we cover and change it if necessary to improve the response.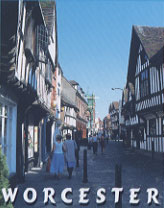 "Requests for tickets for events, or for games at the County Cricket Ground, Worcester Racecourse or rugby matches are easy to satisfy through the system, and we use the Book A Bed Ahead system to find ETC-registered accommodation anywhere in the UK or Northern Ireland.
"This means that we can help our local customers plan where to stay when they are going to other parts of the country just as easily as we can make confirmed bookings with our visitors coming here.
"Another excellent package is the AA MileMaster, which once again means we can give clear directions to our visitors when they are coming to Worcester, and to our local callers when they're planning to travel to other areas.
"The VisitIT software, which counts the footfall at our Guildhall TIC, saves us so much time. We can plan our staff times to suit the likely peaks and troughs of our 200,000 annual visitors, without having to waste valuable staff time with a 'clicker' to count them as they come in.
"It is an excellent and very professional system."
The Worcester system was installed in July and right from the start, the staff all welcomed it as a way of making life easier, while giving them more time to deal directly with their customers.
Andrea's team of four permanent staff had two days' intensive training on the TIM destination management system from CTV's Sally, which gave them a clear insight into the types of information they could expect to take out.
"There's so much to take in, but it is all presented in such a user-friendly way" said Andrea. "Even people who were not familiar with computers found it easy to understand and easy to use.
"It's everything I hoped it would be - and more!"