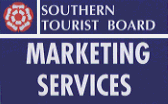 Thanks to CTV's TIM Destination Management Suite, the Southern Tourist Board has been able to maximise both the volume of the tasks it undertakes and the efficiency of the services it can offer to other clients throughout the UK.
Paul Blackburn, STB's database & distribution manager, said: "As well as market response and mailing activities for all our STB members, we also sell these services to other clients right across the country.
"With TIM software, we have proved that we can deliver the goods on time, every time.
"Our expertise, plus the new-generation technology, mean that STB can handle all the administrative functions on behalf of others who do not have the systems or the manpower to do their own 'chores'.
"By tapping into our department at STB, our clients have access to the latest and most economical way of handling a range of services to their customers."
Southern Tourist Board invested in CTV in November 1998, when it was realised that its existing response-handling software had not kept pace with its expansion, and certainly could not cope with the proposed demands for expanding the services it had to offer.
Paul explained: "Our original supplier could not deliver the quality of service we needed, so we asked CTV to look at the problems.
"One of their unique strengths lies in listening to their customers, and developing in line with their needs.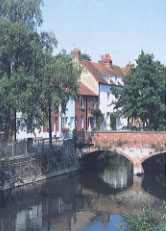 "As a commercial customer, CTV worked closely with us on the development of the software so that it would meet our requirements, both as a tourist board and as a marketing operation.
"Any necessary enhancements were willingly incorporated into the existing development program.
"All CTV's other clients have also benefited from the work, since every improvement to CTV programs is automatically provided at no additional cost as part of the annual support contracts.
However, when the TIM destination management system was installed, the STB budget only allowed for replacing the software.
Before long, it became evident that its overworked conventional hardware and networking system simply could not cope with the increasing volume of work Paul's marketing of the STB services was bringing in.
STB upgraded its system by converting to a Windows NT Terminal Server, installed and configured by CTV in readiness for the 2000 campaign.
With the new terminal server, maximum efficiency has been achieved on a relatively small outlay, since by going down this route none of the existing PCs had to be replaced - a tremendous saving in such a large and complex environment.
Now Paul says: "We are ready to accommodate Direct Mail requirements from any client, anywhere in the world . . . and we look forward with enthusiasm to doing so!"