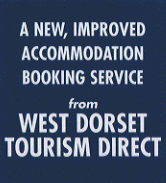 For the British, booking a UK holiday can be surprisingly complex.
Unlike planning holidays abroad, where a trained member of staff at the local travel agent produces all the information, carries out all the complex paperwork, and covers the costs by commission, booking a UK holiday usually involves requesting a holiday guide through an advertisement, working out where and when will suit, then phoning several establishments to find a vacancy with the right facilities, at the right time, at the right price, and in the right place.
In common with many other forward-thinking local authorities, West Dorset District Council is working to improve its accommodation booking service, and to make it just as easy to book an English coastal holiday as it is to go to the Costa del Sol.
By improving the 'bookability' of a holiday in West Dorset, it will remain an attractive option - vital in our increasingly competitive climate.
As featured in our summer issue, WDDC has invested considerably in new technology to link its five Tourist Information Centres together through a 'thin client' environment so that they share a single comprehensive database on accommodation, events, places to eat, and other local and regional information.
Using the latest software from CTV, the WDDC database is now able to hold vacancy data for accommodation providers for any period, allowing advanced reservations to be made.
As bookings are made through any one of the five member TICs, every change is reflected simultaneously across the whole network, meaning that availability is always accurate and up-to-the-minute.
Local accommodation providers can also update their own records electronically as often as they wish, to show availability and seasonal pricing.
Nick Thornley, leisure and tourism manager for WDDC, said: "The District Council is very happy to be working on a new computerised booking system with CTV.
"This means that we can offer our tourism trade the latest technology to help both it, and local industry in general, to remain competitive.
"The new system seems ideal for a large rural and coastal area with a number of small but high-quality accommodation providers."
Chris Sims agrees: "Other networking systems, which rely on periodic data synchronisation, may be satisfactory for databases of events and attractions but are totally unacceptable for accommodation.
"Any scheme involving availability has to be current to operate effectively."
West Dorset District Council has also invested in a new website which will, from November 2000, include detailed entries for all accommodation providers. This too will be fed dynamically by the TIM4 database.
From November 2000, customers will be able to contact West Dorset Tourism Direct, the new advanced reservation service, by telephone, fax, e-mail, in writing, or direct from the Web Site with their accommodation requirements.
West Dorset staff will then match the enquiry to a vacancy, and will book the accommodation on the customer's behalf: WDDC has plans to provide 'on-line' booking in the near future.
Working in partnership with the local accommodation providers through CTV's advanced destination management software will make West Dorset holidays more accessible, since bookings will be made easier for all concerned.